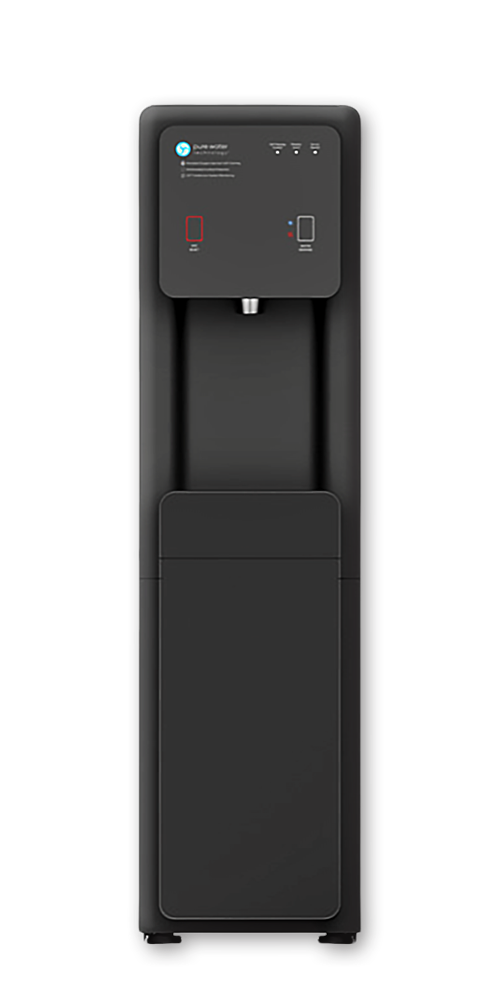 Most Advanced Purification Technology
On-board, multi-stage, reverse osmosis purification and electrolyte boost. Removes all contaminants and adds minerals back into the water.
Draining Kit, Closed System, Ozone Sanitization
Pioneering sanitization and convenience features
Auto-Circulation Freshness Cycle
State-of-the-art technology to help maintain the freshness of the filters and water lines.

OPTIMAL DISPENSING HEIGHT & AREA
Ergonomic design for "no-bend" dispensing. Spacious dispense area for larger refillable bottles and mugs.

Our diagnostic cloud center ensures perfect system performance and water quality at all times
Plastic Bottles Avoided per day
The Optimum PW50 is an innovative, budget-friendly trusted product delivering the purest, freshest-tasting water for small to medium-sized spaces.
Featuring a 1.82 gallon cold tank, it purifies and holds plenty of water for your typical workday, making it an ideal source for fresh-tasting water in shared workspaces for about 25 people. It keeps your workplace hydrated, electrolyte-boosted and safe. For purification, the PW50 uses a 5-stage filtration process that removes sediment, chlorine, bacteria while oxygenating water for the freshest taste possible and adding a little boost of electrolytes at the end!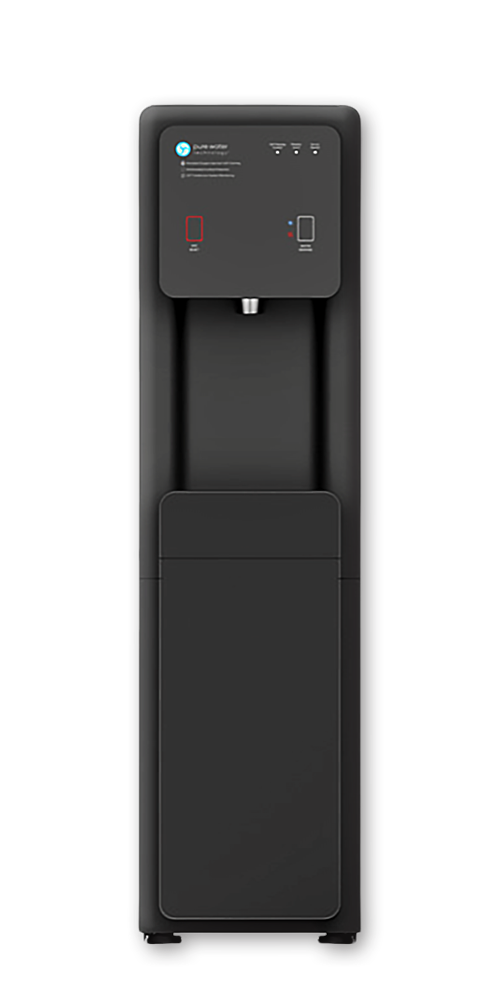 Weight

55lbs (24.95 kgs)

Dimensions

12.99" W x 17.2" D x 48.84" H
(330mm W x 437mm D x 1241mm H)

Cold Tank Capacity

1.82 gallons (6.89 Liters)

Hot Tank Capacity

0.5 gallons (1.89 Liters)

Dispense Area

10.75" H (273mm H)

Reverse Osmosis Membrane Capacity

80 gallons per day

Recomended Water Pressure

60-70 PSI

Rated Voltage/ Frequency

120v/60hz | 220v/50hz

Power Consumption

Hot: 2.5A/300W | Cold: 1.0A/120W

The PW50 uses a 5-stage purification process that removes sediment, chlorine, and bacteria while oxygenating water for the freshest taste possible.
Reduces Sediment like dirt, rust and silt
Reduces organics like chemicals, solvents and chlorine
Reduces Inorganics like lead, mercury and arsenic
Carbon filter & coconut shell enhances taste and purity
Added minerals and electrolytes with enhanced alkalinity
Kills bacteria, viruses and parasites

Slide
On Ideas
The convenience factor alone makes the ig900 well worth the switch from bottled water. Add to that its all-in-one build and fresh taste and there's really nothing like it. A definite win for everyone in the office.
Slide
Edgewell Personal Care
I want to thank all of you for the service. Edgar's team was extremely professional and proficient. It is rare that I have the luxury of a contractor performing a service without me having to constantly correct them on safety and professionalism.
Slide
HR Employee Relations Director
Last year we had four workers' comp claims due to lifting and replacing those heavy water jugs. And two employees slipped on spilled water from the jug change. Happy to report we have zero claims due to water this year. And everyone really loves the super chilled, fresh tasting water, too!
Slide
Facilities Manager
We used the same water system for years, but decided to go for the free week trial. On the first day I had almost 100 emails from employees telling me how fresh and delicious the new water tasted.
Slide
Very friendly staff. When our system needs servicing they are there to do the job. Water is wonderful and the techs are great. Bottled water is a thing of the past! You need to try the new filtration system from them.
Slide
Optimum Water Solutions is the best! From electrolyte enhanced water to ice machines, they've got everything you might want/need for your business. Plus, the units are very professional looking and the people who come to install them make sure to give you instructions on how best to operate them. All in all a great product!
Slide
Amazing product, service top notch. Love so much more than other delivery water services we used in the past. We don't need to haul water from my front step onto the holder. Highly recommend!
Slide
Optimum Water Solutions is the perfect choice for our office. No more bottled water! The taste is great and the service is fantastic. Lezah Preston made the choice easy. She was informative and brief- which is important when you're busy. So far we love our unit!
Slide
We like the water, ice and hot water convenience for the employees, and the satisfaction of knowing we are providing a superior alternative to tap water. Great service too!
Slide
Maintenance Manager
I'm a maintenance manager for a large 3PI and I couldn't work with a better company. I use them at all my warehouse sites. They are always professional, courteous and on time. they do a very neat and professional job on the install, service and follow-ups, and are the best bunch of people to work with.
SIGN UP TODAY


FOR A FREE TRIAL!
Try a System FREE for 7 Days!
Put any Optimum Water System in your office
for 7 days with no obligation.
Try a touchless, bottleless water system for your business and get your office properly hydrated while saving the planet.

Try it out for FREE no risk for 7 days